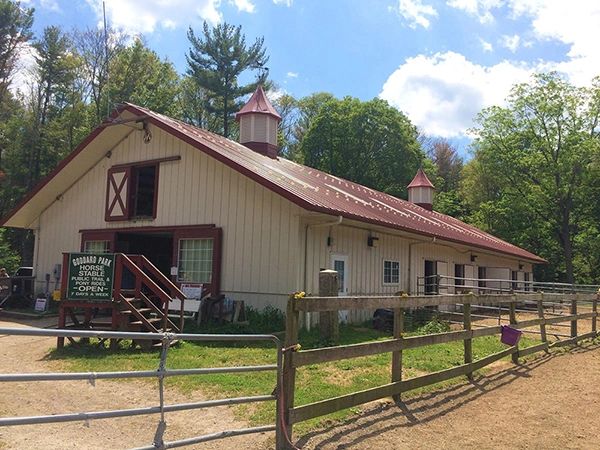 WE ARE NOW OPEN WITH OUR SPRING AND SUMMER HOURS!!

Welcome to C & L Stables in Goddard Park
We offer affordable horseback riding in beautiful historical Goddard Park for the whole family. The park has 18 miles of scenic trails overlooking East Greenwich Bay and we also offer beach bayside rides. C and L Stables has been in the park going on 17 years. We pride ourselves in our beautiful easy to ride horses and our experienced friendly trail guides. Lee and Toni, a mom and daughter team have 40 yrs. experienced between the both of them. Lee trained for the Providence Police Mounted Command unit and Toni has been riding and has owned her own horses since she was 4 years old. We are very family oriented, awesome instructors even for the most timid beginner. We enjoy the fact that people who ride with us learn a little something. We like to put out your riding party with your own guide. We don't wait to stuff you out in big groups; riding can be overwhelming for the very beginner, so we find this makes it a much better experience. So if you ride or don't or you're in RI for vacation, come and enjoy!!! We received "2010's one of the 10 best thing to do" in the RI Monthly Magazine. We have also received - "SAFETY AWARD" from the North American Horseman Association 2004-2013 ten years in a row. In 2018 Governor Gina M. Raimondo awarded C and L Stables a recipient of the Rhode Island Monthly's Best of Rhode Island Award.



CHECK US OUT ON FACEBOOK!
HOURS OF OPERATION: Wednesday-Sunday (we are closed Mondays and Tuesdays) Please call for Reservations as we can not accomodate walk-ins at this time
SPRING/SUMMER : Wednesday-Sunday 10am - 4:30pm
FALL/WINTER: - Reservations required.
Cash, Visa or Mastercard accepted
(3% additional fee per person on credit cards)

NO OPEN TOED SHOES ACCEPTED
(sandals, flip-flops, etc. are not permitted)

CONTACT US AT 401-886-5246

EMAIL - cxlxstbles345@verizon.net

1095 IVES RD WARWICK RI 02818 ( FIRST PARK ENTRANCE )